THE WORKSHOP WAS A BIG SUCCESS, BLENDING ENERGY TECHNOLOGIES TO IMPROVE BATTERY LIFE OF IMPLANTABLE AND WEARABLE DEVICES.  

Organizers:


Aim and objectives:
With recent advances in wearable and implantable technologies, energy limitation issues have emerged as one of the biggest challenges for their sustainable use and reliable operation. Power consumption is one of the key parameters deciding the operational lifetime of wearable/implantable devices. Such devices typically have rechargeable batteries with a limited capacity. Battery power is, in general, consumed by three components: 1) the sensor that collects physiological data at the required sampling rate, 2) a specialized CPU that processes the sensor data, and 3) a radio that is required to communicate the processed data to the network hub/gateway for further analysis or storage.  
Over the last decade, a number of methods targeting energy conservation and harvesting have been investigated to tackle the energy limitation issues for wearable and implantable sensors. Energy micro-harvesters, which convert alternate sources of energy such as body heat, body's kinematics, solar and ambient RF into electricity, can be considered as an auxiliary source of power for a BSN. However, several technical and practical challenges in integration of this technology with the body sensor nodes still remain. On the other hand, energy conservation techniques such as adaptive sampling, event-driven processing, optimized broadcasting or energy-efficient architectures can be used to minimize energy consumption at the node as well as network level.  
This workshop aims to address state-of-the-art approaches in energy conservation, harvesting, and management for this interdisciplinary field. By bringing top researchers and experts to provide stimulating discussions, the workshop also intends to promote collaboration, and open new perspectives in the rapidly growing fields of body sensor networks.  
Workshop Schedule:
Date:
June 9, 2015 (Full day)
Place:
MIT Media Lab, 75 Amherst Street, Cambridge MA 02139
(The workshop will be a part of the 2015 International Conference on Wearable and Implantable Body Sensor Networks - BSN 2015)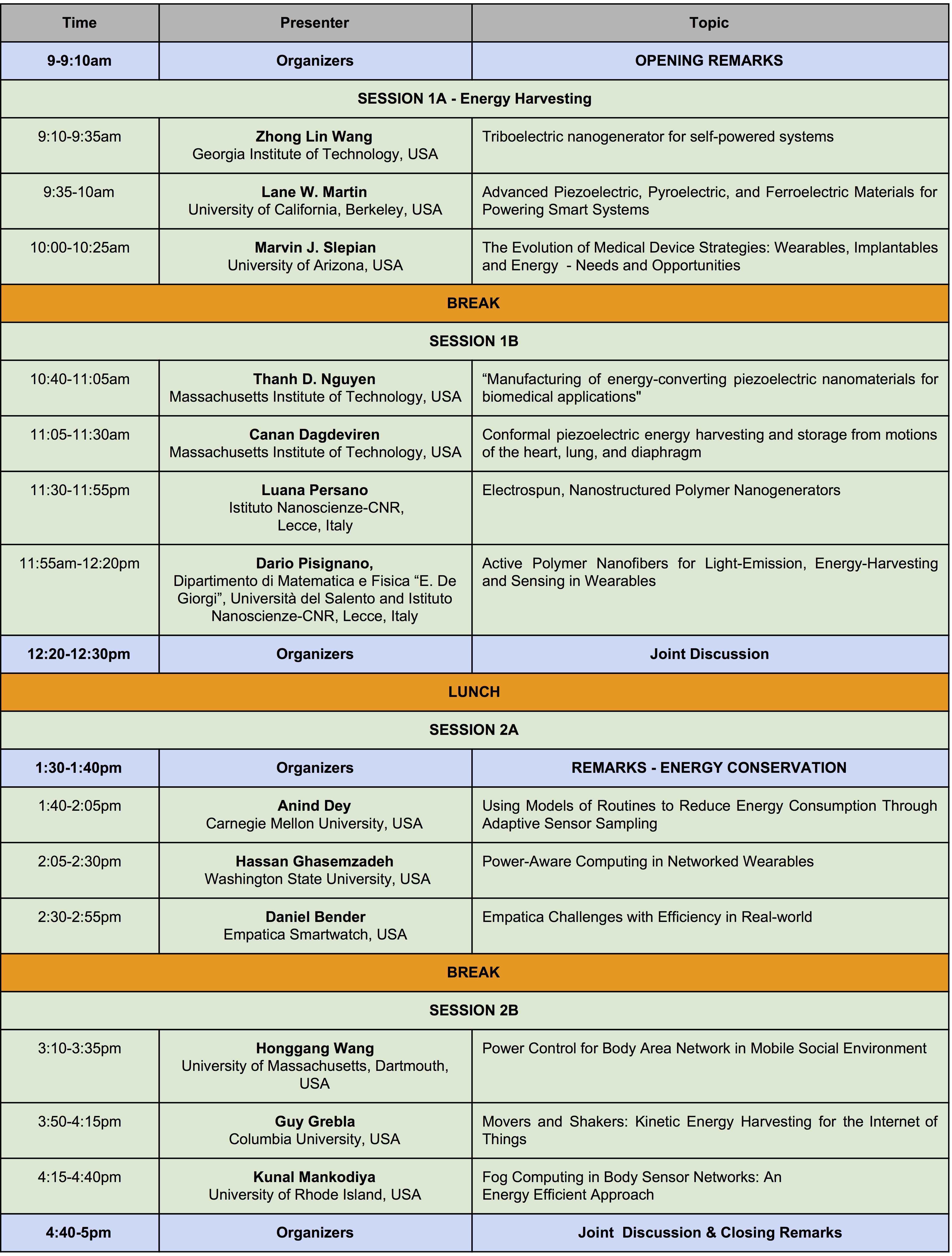 Workshop Papers (optional):
Deadline: Apr. 27
, 2015,  (till 12 midnight)
Submission:
https://cmt.research.microsoft.com/BSN2015/
Manuscript Guidelines:
http://www.bsn2015.org/cfp.htm