Curricula, Courses and Teaching (A.K. Uht)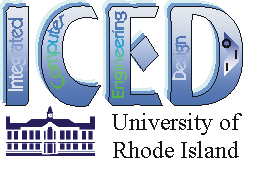 New Undergraduate Integrated Computer Engineering Design (ICED) Curriculum
The ICED web site is in the process of being radically improved. The above links take you there, just be advised that it is still under construction.
Fully approved. Effective Fall 1997.
Partial support for this curriculum is provided by the National Science Foundation's Division of Undergraduate Education through grant number DUE-9751215.
"It is likely that this new curriculum will ... serve as a national model." - NSF grant proposal reviewer.
In cooperation with the Computer Science and Statistics Department and the Instructional Development Program.
Courses Taught, Past and Present Other Teaching Activities - Teaching Fellow, 1995-1996 academic year, Instructional Development Program

April 24, 2001 | Gus Uht | uht@ele.uri.edu