MUS 369G / COM 369G / ELE 369G Technologies and Music

Spring 2019, TR 9:30–10:45 am, Cntr for Biotec & Life Sci 010

Technologies and Music (3 credits): Introduction to Western music tonal systems; orchestra instruments; mathematics and physics of musical acoustics; physiology of auditory system; audio engineering; microphones, amplifiers and speakers; software for synthesis; ethics in music industry.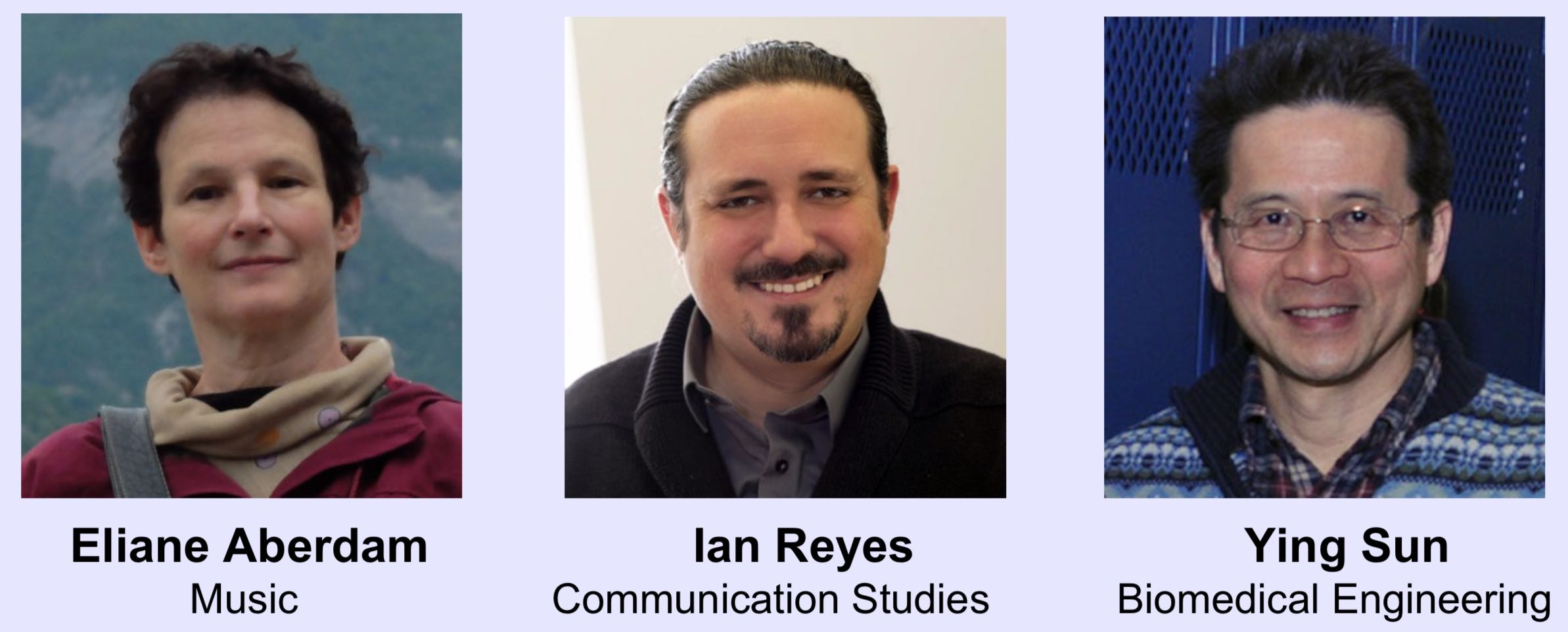 Instructors:
Class photo (Spring 2019) Click here for high-resolution image.


General Education Student Learning Outcomes
G–Grand Challenge – Exploration of multiple perspectives of areas of contemporary significance, including their ethical implications.
A1 (full) – Understand and apply theories and methods of the science, technology, engineering, and mathematical (STEM) disciplines.
Grading: Exam #1 (23%), Exam #2 (23%), Exam #3 (23%), Project (23%), Attendance (8%).
Extra 3% - Attending "University Artists Series: Eliane Aberdam in Concert," Sunday (3/31/19) 3 pm.
Course Syllabus: Spring 2019 Pre-class survey
Sample Exams: Exam 1, Solution 1; Exam 2, Solution 2, Exam 3, Solution 3.
Useful freeware: OpenOffice, Audecity, VCV Rack, Crescendo, GIMP, Inkscape, Pure Data, Chromatic Tuner.
Professional software: Finale, Noteflight, MuseScore, Max.
Useful cloud tools: Graphing calculator, Scientific calculator, Pitch test, Interval ear training, Chord identifier,
Tone generator, Virtual piano, Flute design, PDF compressor.
Useful links:
Reading Materials:
01a – Weekly schedule.
01b – The Physics of Music and Musical Instruments.
02a – Prof. Aberdam's slides on Instruments of the Orchestra.
02b – Instruments of the Orchestra.
02c – Musical Acoustics.
02d – Fundamentals of Musical Acoustics.
02e – Prof. Aberdam's notes: Orchestra, Acoustic, Temperaments.
03a – Music Temperament and Pitch.
03b_E – [Sakai] Theberge, P. (1997) "Technology, Consumption, and Musical Practice." In Any Sound You Can Imagine: Making Music, Consuming Technology" (1-16). Hanover, NH: University Press of England.
03c_E – The Failure of Utilitarian Ethics in Political Economy.
04a_E – [Sakai] Greene, P.D. (2005). "Wired Sound and Sonic Cultures." In P.D. Greene & T. Porcello (Eds.) Wired for Sound: Engineering and Technologies in Sonic Cultures (1-22). Middletown, CT: Wesleyan University Press.
04b_E – Why buy when we can pirate? The role of intentions and willingness to pay in predicting piracy behavior.
04c –Mathematics of Musical Temperament and Harmony
05a – Spreadsheet for quantifying equal temerament and well temperament.
05b – Sampling theorem, MP3.
06a – Auditory system - anatomy and physiology.
07a – [Sakai] Moorefield, V. (2005). "From Mirror to Beacon" (1-41). In The Producer as Composer: Shaping the Sounds of Popular Music." Cambridge, MA: MIT Press.
07b – [Sakai] Thompson, D.M. (2005). "The Modern Studio: Recording Studio Basics" (13-32). In Understanding Audio. Boston, MA: Berklee Press.
09a – [Sakai] Pinch, T. & Trocco, F. (2002). "Buchla's Box" (32-52) and "Shaping the Synthesizer" (53-69). In Analog Days: The Invention and Impact of the Moog Synthesizer. Cambridge, MA: Harvard University Press.
09b – VCV Rack: Open-Source Virtual Modular Synthesizer. download
09c_E – To Name a Thief: Constructing the Deviant Pirate.
10a – Music theory, MIDI.
10b – Basic Music Theory for Beginners - a Complete Guide.
11a_E – Ethics in Music Publication.
12a – Audacity composition project.
12c – Flute project.
12d –The Acoustics of Woodwind Musical Instruments.
12e – Theremin.
14a – Inharmonicity, guitar acoustics.